Feedback Request After a Client Declines Business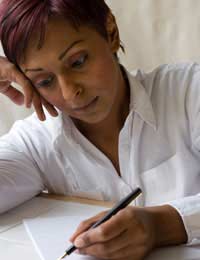 It is always a good idea to send a request letter after a client declines business. This should not be a heavy handed sales letter but should simply convey the desire to find out if the situation can be rectified.
Intent of the Request Letter after a Client Declines
Losing out on a sale or actually losing a client is never easy to deal with. It not only means a loss of business but could mean that your company loses out on other business referrals through this client. There are a number of reasons why a client might decline to proceed with a business relationship. The intent of the request letter is to find out the reason or reasons. It may be the case that the situation can be rectified once the problem has been discussed.
Why a Client Might Decline Business
Price is often thought of as the major reason why a client would decline business. This may be a reason but in a number of cases it may not be the client's major concern for turning down business. Other reasons can include bad customer relations, poor service, lack of trust or that the business does not fully meet their needs. Finding out the reason why business has been declined may mean that the business relationship can still be rebuilt.
Content of the Feedback Request Letter
Avoiding losing clients should be a top priority. The request letter should contain content that is designed to find out the cause of the rejection and to try to create a dialogue between both parties. Start off the letter by expressing disappointment that the client has declined the business offer. The next step will be to ascertain the reason behind the rejection. Ask if the client feels if there have been any recent problems or a decrease in the levels of service that have led to this decision.
Obtaining Feedback from the Business Client
One of the main objectives of the letter is to request feedback from the client. Allowing the client to give feedback can begin the process of setting the matter right. If the matter cannot be rectified then the feedback can be used to ensure that other clients are not lost. Giving the client a chance to air their grievances is similar to a complaints procedure. Assure the client that any negative feedback will be taken seriously and steps will be taken to rectify the situation.
Investigation Letter Not a Sales Negotiation Letter
This request letter should not be intended as a negotiation letter. The letter is an investigation into why the client has declined to proceed with a business relationship. This is not the point where the issue can be rectified by negotiating a price. At this point you may not be fully aware of the actual reason behind the business rejection. A line can be placed at the end of the letter stating that you hope the situation can be satisfactorily rectified but if not then it was a pleasure doing business with the client.
Sample Request Letter after a Client Declines Business
Client name
Department
Company name
Address
Postcode
Date
Dear
Further to your letter dated (date), I am writing to request a little feedback to ascertain if there was a problem on our behalf that has led to this decision.
You have been a much valued client and I take losing a client very seriously. I would welcome the opportunity to review your feedback on my company along with any suggestions you may have on how the service we have provided to you in the past can be improved.
If you feel that there are areas of our business that have not met with your expectations recently then please do not hesitate to mention this. I would welcome the opportunity to rectify this situation if possible, and work towards an outcome that would be beneficial for all concerned.
I would like also like to take the opportunity to thank you for your previous business transactions with my company.
I look forward to reading your feedback and suggestions.
Yours sincerely
Name
GREAT BUSINESS LETTERS IS FOR SALE.
This website is for sale [more info].
You might also like...
I m marketing person and in a day to day basis i need to send mail to client but my drafting is not that standard so please help me
Geetu
- 29-Feb-12 @ 5:55 AM