Letter of Complaint Regarding a Subscription Service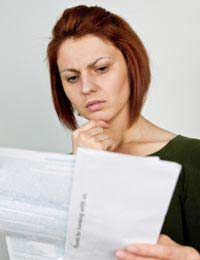 Subscription services are meant to be so routine that almost no one involved needs to think of them on a regular basis. Unfortunately, when things go wrong with a subscription service it can be even more jarring because the service hasn't been thought about regularly in the past. When a subscription service does deserve a letter of complaint, be sure to include details of the issue and how it should be rectified, format the letter formally and always keep a copy for your own records.
Contents of a Letter of Complaint Regarding a Subscription Service
No one enjoys being yelled at, so avoid the written version by opening your letter of complaint with a positive sentence about why you chose to work with the subscription service in the first place. Then segue into the details of your complaint with as much hard evidence (dates, names, amounts, etc) as possible. Don't berate your reader, but do state plainly what has been happening and why you are unhappy about it. Remember, this letter may become the start of a paper trail regarding your relationship with the subscription service provider so clear writing and full details are important. End your letter with your suggestions about what should happen next or how you would be satisfied about ending the matter.
A complaint letter is not the appropriate communication for terminating a subscription service, however if that is your next step should you not be satisfied with the changes made after the complaint then you are entitled to make this known.
Format of a Letter of Complaint Regarding a Subscription Service
A letter of complaint regarding a subscription service is a business communication. As such, this type of letter should be formatted formally with the names, titles and business address of both the letter writer and recipient. The date of writing should be clearly listed. The letter should be formally addressed to the recipient ("Dear Kevin" or "Dear Mr Byrne" rather than "To Whom It May Concern") and contain a formal closing ("Sincerely," "Kind Regards" "Thank You" etc). Postal delivery is the most appropriate method of delivery for a letter of complaint regarding a subscription service, though some business relationships may lend themselves to email delivery instead.
Sample of a Letter of Complaint Regarding a Subscription Service
Ms. Rebecca Morris
Owner Becky's Bake Shop
Business Address
Mr. Kevin Byrne
Account Manager
Cool Cookbooks
Business Address
10 September, 2010
Dear Kevin,
The relationship between my business, Becky's Bake Shop, and Cool Cookbooks has always been one of mutual respect and professionalism. In fact, I chose to order my cookery books and other stationery products from Cool Cookbooks because of the efficient and fuss-free manner in which the deliveries were made.
For years I have enjoyed my subscription to your Book of the Month club, as well as the standing orders I have developed for the works of certain authors and book series. Unfortunately, in the past year my subscription to your Book of the Month club has become disappointing. In January, March and April you sent out paperback booklets rather than the hardcover books advertised in your promotional material, and in June, July and August my books arrived at the end of the month rather than the beginning. In February and May I received books on grilling rather than baking. All together this means that so far I have not received one appropriate delivery in 2010.
While I have very much enjoyed my past relationship with Cool Cookbooks, I will be cancelling my Book of the Month subscription should your service not improve to previous levels of satisfaction. I would now, at the very least, appreciate new deliveries to make up for the February and May grilling books that I received in error. Those books are enclosed for your review.
Sincerely,
__________________
Rebecca Morris
Owner
Becky's Bake Shop
You might also like...