Letter Declining Offer of Partnership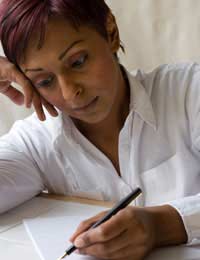 A partnership that may be beneficial for one side may not always be as advantageous to the other. Whether discussing formal, legal partnerships or informal, casual partnerships if you are declining the offer, you should put your refusal in writing so that the refusal is clear to everyone involved. Such letters do not need to be long as the main message is that the partnership is being declined, but should always be formatted formally and use a tactful, professional tone.
Content of a Letter Declining Partnership Offer
It's always flattering to be offered the chance to partner with another individual or organisation, so be sure to express your appreciation of a partnership offer at the start of any letter addressing it. Include a clear statement that you must decline the offer of partnership, and if possible try to include a brief explanation for your refusal, for example that you have accepted another offer, had a change in circumstances, or that you can not commit to a partnership now but would like to have the option of revisiting the offer in the future. If you prefer not to give an explanation then you may want to include a line simply stating that you are unable to accept the partnership offer but remain thankful for the offer. Great detail is not needed in a letter declining a partnership offer as the main message is simply that you will not be acting on the offer.
Format of a Letter Declining Partnership Offer
A letter declining a partnership offer should always be structured as a formal business letter. This means that a professional, respectful tone should always be used including formal salutations and closings. The name, job title and mailing address of both the letter writer and recipient should be given, as well as the date and the writer's signature. If partnership is offered to an employee then the employee should use personal, not organisational, letterhead for printing such a letter. If the offer was made from one organisation to another then organisational letterhead is appropriate. Delivering such a letter via email is almost never appropriate and interoffice mail or delivery via the post should be employed instead.
Sample Letter Declining Partnership Offer
Mr. Malcom Botham
Job Title
Organisation
Mailing Address

Date
Ms. Madhu Sachan
Job Title
Organisation
Mailing Address

Dear Madhu,
Thank you for the very kind offer of partnership at [Organisation]. I have enjoyed my twelve years have and have learned so much about the industry that I know I never would have otherwise.
Unfortunately due to personal circumstances I will be leaving the area and moving back to [Area] be closer to my family. It is with great regret that I must decline your offer of partnership and tender my resignation as [Job Title], effective [Date].
I'd like to take this opportunity to thank you for your mentoring here at [Organisation] and to let you know how truly sorry I am that I can not continue to be a part of the [Organisation] family.
Yours sincerely,
_____________
Malcolm Botham

You might also like...