Partner Resignation Letter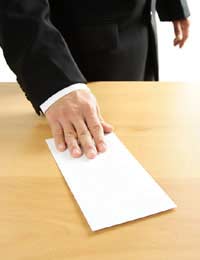 When a partner resigns it is customary for him or her to submit a resignation letter. This letter may be read only by other partners, it may be read by all employees and in some circumstances it may even be made public. While the contents of a partner resignation letter will change according to the reason for the resignation, all must mention that the partner is in fact resigning and the date on which the resignation will be effective. The tone should always be professional and formatted formally.
Content of a Partner Resignation Letter
First and foremost, make it clear that the partner is resigning and give the specific date on which the resignation will be effective. Some partners may include a reason for the resignation, for example due to retirement, ill health or some form of relocation, but such details are not required. Letters to other partners may include more information, such as in relation to current work that the resigning partner is currently carrying out, but these details do not need to be released to the entire organisation or a more public audience.
Tone of a Partner Resignation Letter
A partner resignation letter should always convey a professional tone. Many such letters also communicate gratitude for the partner's time with an organisation, regret at having to leave the organisation and even enthusiasm at the adventures that lay ahead. These are not all, always appropriate and so should be employed only in specific circumstances and/or in letters to specific individuals. The more generic professional tone should be employed if the partner is uncertain about which tone is best.
Format of a Partner Resignation Letter
Include the name, job title and mailing address of the partner who is resigning (and writing the letter). If the letter is to be sent to a wide audience the names and details of all recipients are not necessarily needed. Formal salutations and closings should be employed, and the letter should be personally signed. Letters should be typed, though personal rather than organisational letterhead may be used. Delivery via an organisation's mail system, post or courier are all appropriate for partner resignation letters.
Sample of a Partner Resignation Letter
Mr. Joseph Jones
Job Title
Organisation
Organisation Mailing Address
Date
Dear John
It is with regret that I must announce my resignation - and retirement - from [Organisation] effective [Date].
I have had a wonderful career with [Organisation] and I have enjoyed every moment of my 27 years here. I will leave knowing that I have done great work with great people and I wish you all continued success at [Organisation].
Please do not hesitate to get in touch in the future. I look forward to an active retirement and hope to continue to see many of you in a more social capacity.
Yours sincerely,
___________
Joseph Jones
Job Title

You might also like...
How to get out of a businesspartnership, with out having to spend money.what are the steps to be taking?
Sapo
- 5-Apr-20 @ 3:15 PM
I have resigned from partnership by court agreement but I didn't have resigned from MCA. Now I want resign from MCA. But my others partners are not ready to help me and they don't want to give sign me.What I will do?
FARUKI
- 27-Feb-20 @ 6:28 PM
I need resigning letter templates kindly mail me some of them
Asadi
- 15-Nov-19 @ 9:14 AM
I want to Resining from partnership. My partner not ready for accept my Resining letter. What can i do?
Mani Daruwala
- 12-Aug-19 @ 6:44 PM