Letter Informing of a Complaint Against Business Partner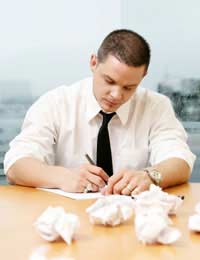 Depending upon an organisation's policies and/or legal requirements a letter informing of a complaint against a business partner may be required. Such a letter may be sent to employees, individuals and companies in a business relationship with the organisation, or both. Details of the complaint filed, details of what will happen next, and information on how individuals can get in touch with the organisation if they have any questions or concerns are all appropriate content for a letter of this nature.
Details of the Complaint
Include the date on which the alleged incident took place, where the incident allegedly took place, who was allegedly involved in the incident, if there were any witnesses to the alleged incident and who lodged the complaint. Depending upon the circumstances these details may be vague or include a great amount of detailed information.
Details of the Consequences
Details of the consequences of the complaint are also appropriate for inclusion. If an investigation is to be opened then details of the investigation might be included. If the partner will not be working during this investigation then this might be noted as well. If information will be needed from the letter recipient then it is also appropriate to advise the recipient of this in the letter.
Contact Information
If a dedicated pathway has been decided upon for others' questions or concerns then the contact information of this pathway should be included in the letter. Details of this pathway might include the person or position who will be handling enquiries, the email address, mailing address and/or telephone number of this person or position as well as details of contact hours during which communications will be answered. If there is a deadline for communications then this should be noted too.
Formal Format
As a formal business communication a letter informing of a complaint against a business partner should include the name, job title and mailing address of both the writer and recipient. If the letter is to go to all employees then it may not need to address each recipient individually. A formal salutation, closing and a space for a signature should also be included. The tone should remain professional, and the letter should be typed and printed on organisational letterhead. Delivery via an organisation's mailing system, the post or a courier are all appropriate for such a letter.
Sample Letter Informing of a Complaint Against a Business Partner
Ms. Samantha Brady
Job Title
Organisation
Organisation Mailing Address

Date
To All Employees,
Please be advised that a complaint of [Subject of Complaint] has been filed against [Name of Partner].
This complaint was lodged on [Date] by [Name or "Type" of Individual]. It will be investigated immediately by [Name or Group of Investigator(s)]. [Name of Partner] has accepted a suspension of [his/her] work during the investigation in accordance with [Organisation]'s policies.
If you have any information regarding this alleged incident, please contact [Name or Group of Investigator(s)] on [Email Address or Telephone Number] by [Date]. Further information on [Organisation]'s policies can be found in the Employee Handbook or from Human Resources.
Yours sincerely,
______________
Samantha Brady
Job Title

You might also like...