Business Introduction Letter to New Clients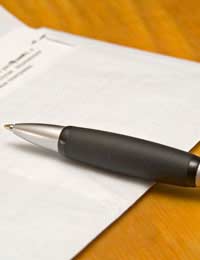 Many companies make the mistake of taking their new clients for granted preferring instead to place their attention with established clients. New clients are the lifeblood of a company, and a business introduction letter should convey this sentiment.
Welcoming a New Business Client
Gaining a new business client is never easy but keeping them can be even harder. A business introduction letter to new clients needs to contain certain elements that create a good impression of the company. The business introduction letter should also convey how pleased the company is that the client has decided to conduct business with them. The letter should be polite, friendly, businesslike, and above all inspire confidence in the client towards the business.
When to Send the Business Introduction Letter
Starting off a client relationship with an introduction letter is a positive and proactive move. Many companies send the introduction letter to new clients with the first invoice; others will send it before the sale has taken place. Sending the introduction letter before the sale has concluded will give the business an opportunity to further promote its products and services. This can include any special offers available to the new client that may bring in more business.
The Intention of the Business Introduction Letter
The business introduction letter is both an expression of thanks and a welcome message. It should convey to the client that the business has their best interests at heart and is prepared and ready to fulfil all their business needs. The letter should be written in a manner that expresses a new but hopefully long business relationship. This simple letter is an open invitation to engage in a business relationship that should prove beneficial to both parties.
Making the New Client Aware of who you Are
Business introduction letters are the best way to make contact on a more personal level. They show that a salesperson or account manager has actually taken the time to contact the new client personally. Businesses can sometimes be seen as faceless entities but a good introduction letter can help to eliminate this. Business is competitive, and any extra effort will be usually be appreciated and recognised by a new client.
Business Introduction Letter Content
Included in every business letter to new clients should be the welcome and thank you to the new client, business account manager contact details, and any requested product information. If the business is sending the introduction letter after the sale then the invoice should be enclosed and stated in the letter. Any special offers, introductory offers or discounts should also be included in a paragraph in the letter. Statements of a long and happy business relationship should also be included.
Inspiring Confidence in the New Business Client
The tone of the business introduction letter should be optimistic and it should inspire confidence in the new client. Optimism can be conveyed by informing the client how delighted the business is to have them on board and that the business relationship is intended as long standing. Confidence in the business can be inspired by stating that the client should contact the business if there is any problem with the product or service, no matter how small. The business should make it known that the new client's needs always come first.
Sample Business Introduction Letter to New Clients
Name of client
Department
Company Name
Address
Postcode
Date
Dear client's name
Business Customer Account No:
We are delighted that you have chosen (company name) to fulfil your business needs. We are more than confident that you be will satisfied with the service we can provide.
Please find enclosed the requested product brochure and welcome pack as discussed in our telephone conversation on (date). Your business account manager will be (name) and can be reached during business hours on (telephone number). Your account number is detailed above and should be used in all correspondence.
As part of out introduction to new clients your first order entitles you to a 10% discount. Should your business needs change over time we will be more than happy to evaluate these changes to provide the best service that we can. In for any reason we do fall short of your expectations please do not hesitate to contact us.
We look forward to a long and happy business relationship, and I once again thank for choosing (company name) for your business needs.
Yours sincerely
Name
Encl: product brochure and sample pack
You might also like...
we are in toproperty management Service. we will provide service for NRI also. on behalf of the customer (NRI) we take care of the property in india and we will provide tenet for his property( flat, Villas & Commercial ). for that we will charging some property management fee ( service charges).So we want to introduction letter to new customers. for that i am looking for letter. could you forward me the letter to my mail address
ANAND
- 31-Aug-19 @ 6:48 AM
I have need oile company introduce letters
ghouri
- 23-Aug-17 @ 11:09 AM
I am very satisfy your service but i have need company introduction letters specially oil company
ghouri
- 23-Aug-17 @ 11:06 AM
My father recently passed away and my brother and I are taking over his storage unit business.I would like to send a letter to his current clients informing them of address changes etc..Is there any additional information that should be included in the letter? Lastly, can anyone offer advice on how to construct the letter?
Perry
- 18-Mar-13 @ 2:58 PM
It's always best, in my experience, that the letter comes from the main contact at the company, and that it also includes the mission statement of the firm, with a sentence or two about how they can make that work for the client. Include offers, buy all means, but only ones that suit the client, so they don't feel they're simply receiving a generic letter. The more personal it is, the better the future business relationship can be.
Graham
- 2-Jul-12 @ 11:39 AM