Focusing on the Positives in a Business Letter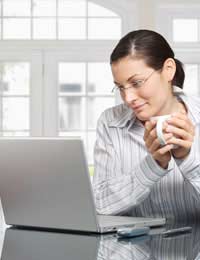 There's no doubt that people respond better to positive sentiments, so focusing on favourable and encouraging information is a smart idea when writing business letters. This can be difficult if the overall message is one that will disappoint or even anger the letter recipient, but it is still possible to mitigate the negativity of any communication. Vocabulary choices, the positioning of positive information, conveying an upbeat tone and the amount of space you dedicate to proposing solutions are all important steps towards creating the most optimistic letters possible.
Positive Vocabulary Choices
Perhaps the easiest way to focus on the positives of a business letter is to use strong, active vocabulary words which evoke positive emotions in the letter readers. Not only would employing negative vocabulary bring down the tone of the letter but it would immediately put the reader on the defensive and make him or her much less likely to pay attention to what you are trying to say. In order to select the most positive vocabulary possible be sure to:
Always use the affirmative form of a sentence ("We will..." rather than "We won't...")
Avoid negative words such as "unfortunately," "sadly," or "with regret".
Avoid words which carry a final judgement such as "error", "failure" or "mistake".
Eliminate words could make readers defensive such as "liability" or "fault".
Employ synonyms which emphasise a positive message rather than repeating words.
Select action verbs which convey a sense of movement rather than stagnant "to be" verbs.
Positioning of Positive Information
Another good way to strengthen your business letters is to position any positive information at the start of your messages. This allows readers to begin their interactions with your letters with a sense of encouragement. If you have good news, impressive statistics, an optimistic forecast or a pleasant anecdote then leading with this information gives you a more solid point from which to jump into any less positive message you may need to communicate. Beginning your letters with positive information is also a good idea as it allows you to create a "sandwich" message in which you can lead with positives, explore any negatives and then close with positives. Not only will readers end your message on a high note if you present it in this format but it also breaks your message into two positive sections and one negative section which readers will only unconsciously pick up on.
Conveying an Upbeat Tone
The tone of a business letter can be a tricky thing to craft, but once you make a habit of carefully selecting your vocabulary words and arranging them into upbeat sentences half of your job is already done for you. Other elements which can affect your tone include:
The confidence with which you write to transmit information or propose solutions.
The words or facts you emphasise, either with bold font, underlining or another method.
The sincerity with which you write and your attention to detail in your writing.
The efficiency with which you explain things and stay on the topic of the letter.
The openness of your communication, with little defensiveness.
Dedicating Space to Solutions
The amount of space you dedicate to proposing solutions, as opposed to simply summarising problems or placing blame about a given predicament, is a direct measure of how much your business letters focus on positives. Highlight what can and will be done about any specific situation rather than what can't or won't. If you believe something will disappoint the letter recipient then apologise briefly but use most of your space to outline alternative options. Don't devolve into lengthy explanations which could slow, confuse, frustrate or even anger readers, instead build up a feeling of momentum by focusing on what is possible. By dedicating more space to solutions than problems you are by default focusing on the positives and your readers will pick up on this as well.
Focusing on the positives is important in business letters as it can help the readers of your letters respond better to what you have to say. Even if your overall message is one that might disappoint the person to whom you are writing you can still focus on positives by selecting appropriate vocabulary words, positioning encouraging information at the start and end of your letter, conveying an upbeat tone and dedicating the most space to solutions rather than problems or explanations.
You might also like...