Striking the Right Tone in a Business Letter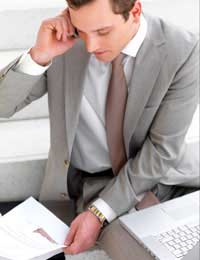 Getting the tone is the key to writing an effective business letter. 'Tone' is basically the attitude of the letter, how the writer is getting across his or her message. Too formal a tone and the letter could come off as stilted or even pompous, too familiar a tone and the letter could be read as disrespectful or even uneducated. Avoid the hazards of tone by brainstorming your letter before writing it - consider the subject, purpose and recipient. Business related emails will have their own tone considerations, but still follow the basic tenets of business communications.
Subject of the Letter
Before beginning to write take the time to sum up the subject in one sentence, for example 'this is a letter of condolence to an associate 'or' this letter notifies vendors of an upcoming sale' Once you identify the main subject you'll then be able to narrow down appropriate tones. For example, a letter of condolence might have a sombre tone while a letter about a sale might have a more enthusiastic tone. You'll be able to refine this decision as you ask yourself further questions about your letter.
Purpose of the Letter
With the subject and general tone in mind, consider the purpose of the letter. For example, is the purpose of your letter of condolence simply to acknowledge a loss or is it also to provide comfort or announce future plans in memory of the deceased? The former purpose might keep a sombre tone, while the latter two purposes might require more familiarity. Similarly, a letter to notify vendors of a sale will likely have an enthusiastic tone, but one that is letting some vendors in on special discounts as "VIPs" might also have a hint of secrecy (as a gimmick) too. Knowing why you are writing a letter (purpose) in addition to what you are writing about (subject) should help you narrow down your tone options considerably.
Recipient of the Letter
To whom you are writing, the recipient of the letter, will also influence the tone you use because knowing the recipient of your letter will help you understand at what level of difficulty you can write. Appropriate vocabulary, sentence structure and paragraph length may all vary depending on the letter recipient and contribute to an overall level of reading difficulty or complexity. Some things will not change, however, because they are just part of good writing. All business letters should employ powerful, active rather than weak, passive verbs, highlight the positive rather than the negative and be respectful of the recipient. Writing with honesty and integrity is also an integral part of penning successful business communications.
Business Related Emails
Emails almost always have a less formal tone than business letters, and many people have trouble striking just the right level of familiarity in these communications. While the subject, purpose and recipient will largely dictate the tone of an email, those sent to co-workers will usually be much more familiar than those sent to clients, superiors or other business associates. Work emails should not be confused with personal email, so passing along rude or inappropriate jokes, forwarding chain letters, attaching personal photos or addressing personal grievances have no place in business communication. Always remember that work emails may be monitored and conform to an organisation's guidelines when sending email from or to that organisation. Slang, swear words, gossip and rants have no place in business related emails, no matter how familiar the tone to a colleague.
The tone of a business letter is an important consideration. Tone helps convey information in the most appropriate way and depends largely on the subject, purpose and recipient of the letter. While business related emails often have a less formal tone than letters, never mistake this increased familiarity for licence to send inappropriate materials. No matter the tone, inappropriate communications have no place in the office.
You might also like...