Letter to Creditors That Business is Closing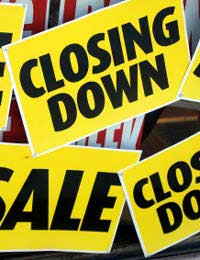 Sending a letter to creditors that a business is closing will ensure that all creditors are made aware of the situation. The letter will include necessary information including the address where creditors can make claims on outstanding accounts.
Notifications and Letters to Creditors
When a business is closing a notification or announcement is usually placed in a newspaper. This is to ensure that all creditors are fully aware of the closure and that they have the relevant claimant details. Letters to creditors can be sent prior to this announcement and details included will be similar to those contained in the announcement. Letters should include the reason why the business is closing whether it is bankruptcy, selling or liquidation.
Timescales and Closing a Business
Closing a business does take a lot of planning, and timescales will vary depending on the size of business and the owner's status such as sole owner or a limited liability company. Creditors should be informed as early as possible once the decision to cease trading has been made. Solicitors and official receivers will be involved whether selling or liquidating a company and they will be able to give advice on timescales. Writing a letter to creditors, customers, and suppliers as soon as possible will set in motion any outstanding payments claims and the finalising of accounts.
Informing Creditors of Business Closure
Writing a letter to creditors that a business is closing will both inform them of the fact and make sure that they do not hear of the closure second hand. Bridges should never be burnt when a business closes and owners may wish to use these creditors again. Some creditors may deserve both a letter and a telephone call from the business owner. Either of these forms of communication will ensure that creditors are at least informed of the intended date of closure.
Content of the Closing Business Letter to Creditors
One of the main pieces of information to be included in the letter to creditors informing them that a business is closing will be the actual closing date. Other information to be included should be the name and address of the official receiver or solicitor who is dealing with the business closure. This is the address where creditors can make any claims regarding outstanding accounts. Business owners may also wish to place a line stating that the business as an entity can no longer incur any business debts.
Setting out Letter Templates
Setting out a template will be the easiest way to write a letter to all creditors. Below is an example of a letter to creditors informing of close of business due to bankruptcy. There are of course many reasons why a business would close but the basic principle behind the letter to creditors will be the same. The business owner is officially informing creditors of the reason for closure, the date of closure, and the address of the solicitor or official receiver for claims.
Sample Letter to Creditors That Business is Closing

Business name
Address
Postcode
Date

Name of creditor
Department
Credit Company Name
Address
Postcode
Dear (creditor's name)
Business Customer Account No:
This letter is notification that due to unavoidable financial difficulties, (name of company) is regrettably closing for business on (intended date of closure). My company is now in the process of bankruptcy and an official receiver has commenced with the bankruptcy process. All business debts will now be assessed by the receiver. These debts will evaluated in order of priority and the decision to either pay or discharge the debt will be made by the official receiver throughout the bankruptcy process.
It would be appreciated if any further correspondence or inquiries including outstanding payments and claims on this matter could be addressed to the official receiver at (name, address and telephone number). This letter is also formal notification that (name of business) can no longer incur any further business debts.
The official receiver will be in touch regarding the status of your account in due course.
Yours sincerely
(name of company)
You might also like...
I'm looking for a letter to inform my service provider that my company has been liquited by the sheriff of the court
Goodwill
- 4-Mar-20 @ 1:17 PM
I am looking for a letter to inform my vendors that my husband has died, I am closing the company and because the life insurance is not enough to cover all of the debt I am offering them partial payment. Can you help me with this? Thanks
I am looking for a business template to annouce a new supplier within our companyhave you got one?
bigjoe
- 25-Mar-11 @ 11:35 AM