Debt Collection Final Notice Letter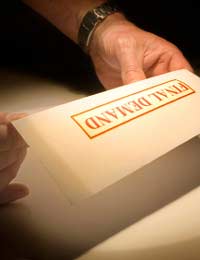 A debt collection final notice letter will come with stronger demands for payments than a reminder or subsequent letters. This letter will include consequences for non payment but will still give the debtor an opportunity to explain the non payment of the debt.
Intent of a Debt Collection Final Notice Letter
A debt collection final notice will usually be sent with the intent of making it clear that the overdue situation has now reached crisis point. It can also give the debtor one final chance to explain the reason for non payment before matters are taken to the next level; usually debt collection agencies and legal proceedings. The letter should offer the option to contact the creditor to fully explain the withholding of payment, and when the situation can be rectified.
Debt Collection Final Notice Letter Tone
The tone of the final notice letter should be polite but should also appear both business like and even stern. The letter needs to convey that this is a final chance and that the next step will be alternative debt solution procedures. The debtor should be made fully aware of the next step in the debt collection process and the language used in the letter should be clear and easily understood. Many debt collection final notice letters will contain certain words set out in bold type and in capitals such as SERIOUSLY OVERDUE and IMMEDIATE SETTLEMENT.
Further Debt Collection Procedures
One important piece of information in a final debt collection letter will be the threat of the next step in the debt collection process. Notification of the use of debt collection agencies will usually be included in final debt letters. There may also be notice of further legal proceedings that comes in the form of threats of court action. Court action will usually be dependant on the size of the debt and how long it has been overdue.
Final Chance to Explain Non Payment
Placing a few lines in the letter giving the opportunity to explain why payment has not been received is always a good idea. To debtors, debt collection final notice letters are sometimes seen simply as a notice that the debt collectors are being called in. This should not be the case, and making it clear that there is still a chance to rectify the situation should be an option. The debtor may have been going through a temporary financial problem that they have been trying to fix while the credit company has been sending reminder debt letters.
Time Limit Inclusion in Final Demand Letters
It is a good idea to place a time limit for either contact or expected payment of the overdue bill. This time limit is entirely up to the creditor but normally by this stage of the proceedings the time limit will usually be seven days. Another option is to place a precise date as a time limit. The seven day option will usually mean from the date on the letter. In many cases the letter will not reach the debtor for a few days, and it sometimes can take up to a week before the letter actually reaches the debtor.
Sample Letter of Debt Collection Final Notice Letter
Name of creditor
Department
Credit Company Name
Address
Postcode
Date
Debtor name
Address
Postcode
Dear (debtor's name)
Customer Account No:
Outstanding Amount:
It has come to our attention that your account is now SERIOUSLY OVERDUE and this letter is a final demand for payment. We have, as of yet, received no payment towards this account or contact explaining the failure to make payments. If there is a reason why these payments have been withheld we would be obliged if you could contact us in order to either explain the reason or come to some form of payment arrangement.
If we do not hear from you within the next seven days we will have no alternative than to commence with further debt collection procedures. This will include instructing out debt collection agents to recover this debt.
This action can be avoided by either settling the outstanding amount immediately or contacting us within seven days with a suitable payment arrangement.
I look forward to hearing from you.
Yours sincerely
Creditor name
You might also like...