Letter Explaining Inability to Make Payments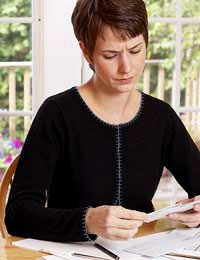 A letter explaining inability to make payments to a credit company will not usually be viewed favourably by the receiving party. However, there are certain circumstances when this course of action will be unavoidable. Setting out the details of the financial problem and an approximate timescale may help to avoid legal action from creditors.
Income and Expenditure Form
Before drafting out a letter explaining inability to make payments to creditors it will be a good idea to gather all financial information. This should include all of your income and expenditure. This data can be used to prove to the credit companies the reason behind the inability to make payments. The typed income/expenditure sheet should be included with the covering letter.
Clear and Concise Letter Content
The language used to explain why payments cannot be met should be business like and understandable. Do not over elaborate and always stick to the main points. The income and expenditure sheet should provide enough information, and the details contained on that sheet should not be included in the covering letter. The covering letter itself should only be a few paragraphs outlining the problem and the reason behind the inability to make payments. The letter may also contain details of how long this financial problem will last, if this information is known.
Extra Information to Include in the Letter
It may be the case that you were employed when the credit contract was originally made. Since that time you may have become unemployed, had a reduction in income or now be existing on state benefits. If this is the case then this information should be included in the covering letter. Creditors will want to know where any income is coming from and this will help them to understand the financial problem.
Solution to Inability to Make Payments
In reality, if there is no way that a debtor can make any type of payment to a credit company then the only solution available will be to suspend the account. Many creditors will be willing to implement this solution if it is for a set period of time. It may also be the case that you have been a good customer and this solution is preferable to starting legal proceedings. You should make creditors aware that you are looking for solutions to this temporary financial problem.
Keep the Letter to Creditors Realistic
As this is a letter detailing the inability to make payments there is no point requesting a new payment plan or any other type of repayment option such as interest only payments. The point of this letter is to make creditors aware that payments will not be met for a period of time. Many people who cannot make payments will panic and include offers of reduced monthly payments. There is no point including unrealistic offers of payments that cannot be made as this will be looked on unfavourably by creditors.
Sample Letter Explaining Inability to Pay
Your name
Address
Postcode
Date
Name of creditor
Department
Credit Company Name
Address
Postcode
Dear Sir/Madam
Re: Account No:
I regret to inform you that I am presently unable to make payments to my credit account due to (state reason here).
Please find enclosed a copy of my monthly income and expenditure. As you can see from this information it would not be realistic of me to make a financial offer of payment towards this account. My only income at the moment is (state income such as unemployment benefits, income support, pension credits, etc). This income is enough to simply cover my basic monthly outgoings.
I am requesting that my account is placed on hold for six months along with suspended interest amounts. This timescale is approximate and should my financial situation change before the six month period has ended I will inform you of the change.
I am presently making every effort to increase my income and will contact your company as soon as any financial change occurs.
Your understanding and patience in this matter is much appreciated and I look forward to hearing from you.
Yours faithfully
Your name
You might also like...
I have a real-statebusiness. have not got proper money collection fromcustomer . i write debt collectionletter
maruf
- 26-Dec-12 @ 6:48 PM
Thank you so much for providing this information. I have had major medical problems, and I am not able to work right now. Someone suggested that I compose a letter, but I was not able to think through it on my own. This website is invaluable. Thank you, and God bless you.
Goldie
- 14-Jun-12 @ 8:59 AM