Letter to Offer a Business Presentation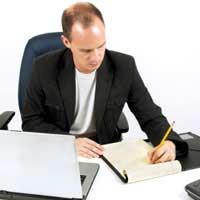 Writing a letter to offer a business presentation does need careful thought. If this is a requested business presentation then the letter would be quite straightforward. A cold call presentation would be worded in a more gently persuasive manner and should highlight the benefits of using your business.
Selling the Business Demonstration
A letter offering a business presentation is basically a sales letter; your company is offering to demonstrate a product or service in the hope of a sale. This is a form of advertisement and the free business presentation is often a useful way to collect sales leads. Persuasion is key but not in a heavy handed manner. The presentation itself will be the main selling point but the letter of offer is intended to get a foot in the business prospect's door. Once the presentation begins the main selling will start.
Preparation Before Sending the Presentation Offer Letter
A letter is the best way to offer a business presentation. Emails can be deleted straight away without being read and are less personal. Always telephone the business prospect before sending the letter in order to ensure the letter reaches the appropriate person. A telephone call can also be useful to find out more about a company such as the number of staff and whether or not they would actually be interested in a presentation.
Highlights in a Business Presentation Letter Offer
Highlighting the benefits of using your company's products or services is a useful selling tool without coming across as pushy. The highlights should be set apart from the paragraphs in bullet points and a bold font can be used. This will immediately draw the reader's attention to these specific points. Cost saving benefits and the product investment being recovered over a period of time are always excellent selling points.
Enclosing Product Material with the Letter
Additional material sent with the presentation letter offer is a good idea. This literature should give a better idea of the service or product than can be detailed in the offer letter. The product or sales brochure will also be able to highlight exactly the full scope of your company and the services and benefits on offer. Always mention in the offer letter that a brochure is enclosed to direct the reader's attention to it.
Details to Include in a Presentation Offer Letter
The main details to include will be the benefits to the business prospect. There can also be mention of other companies that have benefited from using this product or service; this can be a form of referral. Full contact details should also be included. If there are any special offers such as introductory offers of discounts then these should also be mentioned. Also mention how long the presentation will approximately last and that it can be undertaken in either company's workplace, if this is possible. Make sure to mention that the presentation is free of charge if this is the case.
Sample Letter of Offer of Business Presentation
Customer name
Department
Company name
Address
Postcode
Date
Dear
Further to our recent telephone call I would like to thank you for taking the time to read this business presentation proposal.
(Company name) has been supplying businesses in the London area for over 10 years with (product or service name). Businesses that have benefited from our products include (company names). These companies have informed us that the initial investment in our product has been recouped within six months of implementation. The benefits of using our company's product include:
A return on the initial investment in a matter of months
Easily implemented software and free online customer support
Energy saving benefits for your workplace using green technology
Upgrades after one year with no extra expense
I would love to show your business the benefits of using our product with a no cost, no obligation one hour presentation. This presentation can take place at your premises or at our head office at a convenient date.
Please do not hesitate to contact me if you wish to proceed with the presentation or if you have any questions regarding our products. I can be contacted at (telephone number and email address). Please find enclosed a product brochure with details of our full range of products and services.
I look forward to hearing from you.
Yours sincerely
Name
Encl: product brochure
You might also like...
I want to write a letter requesting a presentation from my company to other companies. My company is a Life Insurance Company...I need help
Smiley
- 3-Apr-22 @ 6:11 PM
I want to write a letter requesting a presentation from my company to other companies. My company is a Term Life Insurance Co. I need help
ama
- 17-Apr-21 @ 5:06 AM
I want to write a proposal to a companypresenting our insurance products, now can I write it ?
adedeyi
- 11-Jul-19 @ 4:16 PM
I want to write a letter to the town council to go and presenting our insurance products, now can I write it ?
Sydney
- 26-Jul-18 @ 9:04 AM
I think you can also write the letter in different ways besides this
Onyx
- 19-Jul-17 @ 7:10 AM