Sponsorship Offer Letter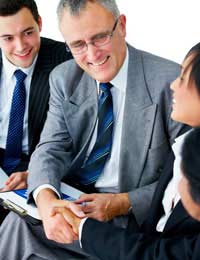 Organisations engaging in sponsorship enter into a specific type of business relationship so letters which address sponsorship should be as formal and complete as any other type of business communication. Letters extending the offer of sponsorship should also include details of the arrangement as well as reasons as to why the prospective sponsor believes such a relationship would be mutually beneficial. These letters should also make it clear that the prospective sponsor can't wait to start such an exciting new venture.
Details of Sponsorship
Sponsorship offer letters are not formal contracts, but they should make it clear what the prospective sponsor is prepared to provide in a particular relationship. This means addressing the type of sponsorship that is to be provided, the instances in which it will be provided and any other specific conditions that the sponsor believes is important. However, these letters should also make it clear that formal sponsorship contracts will need to be signed so that it is not believed that the sponsorship offer letter is the contract in and of itself.
Rationale for Sponsorship
While it is obvious that most sponsors hope to gain advertising opportunities within a specific demographic - it never hurts for a prospective sponsor to remind a potential client why the relationship would be mutually beneficial. The provision of material goods, financing, an alignment with a stronger brand and/or an alignment with a brand of similar values/philosophies/goals are just a few of the items that an organisation may provide when sponsoring others.
Enthusiastic and Positive Tone
Sponsorship offer letters should employ vocabulary that conveys that the prospective sponsor is excited about the potential relationship with a new client. Though such letters may only include one or two lines to this effect, they are important to keep the overall tone of the letter positive and enthusiastic. It is not necessarily a sales letter, but it's not necessarily not one either so its always better to err on the side of being too positive!
Format of a Sponsorship Offer Letter
The name, job title and mailing address of both the writer and recipient should be included as should formal salutations and closings. A space for the writer's signature should appear at the end of the letter and such letters should be typed and printed on a business letterhead. Delivery via post or courier is most appropriate for a sponsorship offer letter.
Sample of a Sponsorship Offer Letter
Ms. Rachel Garner
Job Title
Organisation
Organisation Mailing Address
Date
Ms. Virginia Hall
Job Title
Organisation
Organisation Mailing Address

Dear Ms. Hall,
It is with great delight that I am able to extend an offer of sponsorship from [Organisation] for [Person or Event].
Here at [Organisation] we are dedicated to fostering new talent and we believe that [Person or Event] has what it takes to make a huge impact in [Manner or Type of Impact]. To help [Person or Event] we would like to offer a donation of [Amount] as well as provide [Items] for [Reason]. In return we ask that [Person or Event] display [Organisation]'s promotional signs and literature throughout.
The finer details of this sponsorship offer can be worked out in the future but in the meantime I'd like to invite you to [Event] so that we can discuss this exciting new relationship. Please contact me on [Telephone Number] at your earliest convenience so that we can set up [Event].
I look forward to hearing from you soon so that we can move forward with this wonderful opportunity for [Organisation] and [Person or Event].
Yours sincerely,
______________
Rachel Garner
Job Title

You might also like...
Hi My name is Aimun Fayyaz. And i am form Pakistan. I want to support my family. Please give me some good offer. i want sponsership letter. THANKS
Aimun
- 13-Feb-23 @ 12:56 PM
I am a student of marketing.And i work for our marketing club.First time i have got a responsiblity for manage a sponsership.
Zubair
- 29-Jun-19 @ 12:49 PM
I want a Sponsor letter from Canadian... Will you please help me..
Litty
- 7-Apr-19 @ 5:18 PM