Letter Negotiating After a Declined Work Quote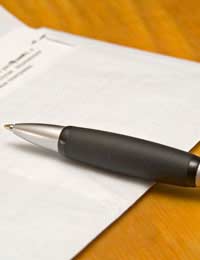 There are a few reasons why a work quote may be declined but successful negotiations can turn this decision around. A negotiation is an interactive process between two parties and there should an amount of give and take on both sides.
Reasons for a Declined Work Quote
Works quotes are usually turned down either because of pricing or time issues. With both of these issues there is usually room for negotiation. If an original quote is proving unsatisfactory for the customer then sending a letter to begin the negotiation dialogue is a good way to start. Telephone calls are not always at good negotiating option as both parties can be put on the spot and bad decisions are easily made under pressure.
Negotiating a Lower Price
Many businesses will jump straight in and offer a lower price if the quoted price is too high for the customer. This is an option but a successful negation should work on percentages. This is a form of bargaining, and offering a lower price in the form of a percentage figure is a better negotiating option. State that you will be able to negotiate a lower price of around 10% to 15% than the quoted price as a sign of goodwill. There should also be a reason included for the lower price such as building up a customer base within the local community.
Quote a Lower Price and Ask for References
If a business is going to negotiate by quoting a lower price then the negotiation can include a reference after the work is completed. References from customers are a great way to advertise a business within the community. The references can be placed on websites or given to other customers if requested. References are a great way to drum up sales leads for small businesses. The more customers, the more references and this can include word of mouth referrals.
Highlight the Benefits of Using Your Business
It may be the case that a customer has obtained multiple quotes for the same job before choosing one. This decision could have been based on price but low prices don't necessarily mean quality work. Highlighting the benefits of your business should be included in any negotiation letter. This could also mean providing references from other satisfied customers or including guarantees.
Always Quote Realistically During Negotiations
Highlighting the benefits of a business, giving guarantees, and quoting lower prices are all acceptable negotiating tactics. However, these tactics should be kept realistic. There is no point placing guarantees or promises of completing work by a certain date if these promises cannot be fulfilled. This will only give a business a bad reputation and word of mouth soon spreads. Never lower quoted prices if it means cutting corners or providing a lower level of service; this will also do nothing for a company's reputation.
Sample Letter Negotiating a Declined Work Quote
Customer name
Address
Postal code
Date

Name
Company name
Address
Postal code
Dear
Re Job quote reference number:
I am sorry that you found our quoted price of (price) for (type of work) was above your set budget. I see from your letter that you have obtained a number of quotes from companies in the area. I would like to take this opportunity to highlight some of the benefits of using (company name).
(Company name) has been providing quality (type of work) for over ten years within the local community. The materials used by our company are of the highest quality and do come with a guarantee period included in the price. (Company name) has many satisfied customers in (name of town) and specifically within your postal code. References can be supplied that will attest to the standard of work that we provide.
Although you have stated that the price quoted was above your intended budget I am sure our company can negotiate on the quoted price. I have been authorised to offer a lower price of between 10% and 15% from the original quote as a gesture of goodwill. If we can come to an agreeable figure that does meet with your original budget then I would be very pleased to hear from you.
I have also taken into consideration that our quoted starting date of (date) was not acceptable as the work had to be completed before your upcoming vacation. I can rearrange my schedule to ensure that the majority of the work can be completed before the date you have mentioned, if not before. This matter can be discussed further if you contact me in due course.
I hope we can come to an amicable agreement on this matter. If you have still decided to use another contractor then I thank you for considering (company name) and please do not hesitate to contact us again in the future if we can be of any help.
Yours sincerely
Name
You might also like...