Letter Negotiating Terms of Contract With Wholesalers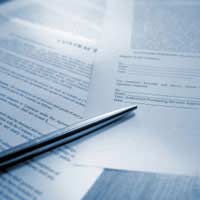 Negotiating the terms of a contract with wholesalers is a normal part of any contract process. As with any negotiation, the process will be a two way interactive discussion, and the outcome will be a legally binding contract.
Legally Binding Contracts
Contracts between companies exist partly as a form of protection for both parties. The contract will include a number of terms and conditions that consist of the expectations and requirements to be fulfilled by both parties. There will also be terms covering breach of contract that are designed to protect both parties. The contract and the terms and conditions are legally binding and both parties should ideally have some say in the contract terms.
Negotiating Contract Terms with Wholesalers
A letter negotiating the contract terms with wholesalers will be the usual route to take. Face to face meetings are also held in order to discuss the contract terms and conditions. Negotiations can be a long process but in other cases it may simply mean some minor changes on pricing or monthly supply expectations. Final contracts will usually be looked over by legal departments before signatures are added by both parties.
Content Included in a Negotiation Letter
There may be a number of terms and conditions that need to be negotiated in the wholesaler's contract. These can include pricing, supplies, insurance, exclusivity, contract renewals, and penalties for issues such as late delivery. Both parties do need to be in agreement before the contract is signed, and both parties should be satisfied with the final draft contract. Negotiation points can be highlighted in a section of the letter with bullet points.
Points to Keep in Mind during Negotiations
Negotiations involve a process that includes one party making an offer, the other party either accepting or negotiating the offer and finally the acceptance of the offer. For companies negotiating with wholesalers one of the biggest issues may be maximising their return. Getting the best deal will come down to both the bargaining power held by both parties and a certain amount of sales skill.
Negotiating is a much sought after skill and the best negotiators will be able to use their skills to obtain the best deal while keep the other party happy. Extra bargaining power can come in the form of hinting that there are other offers on the table that are being considered.
Negotiable and Non Negotiable Terms
Some contracts will include a number of non negotiable terms and these can be placed in the letter. A good idea is to draw up a list of negotiable and non negotiable terms that can be placed in the letter. Including this will make both parties aware of exactly where they stand in terms of negotiation points. However, when it comes to money and contracts, the saying is that everything is negotiable. Both parties should be flexible enough to reach an agreement that can lead to a beneficial business relationship.
Sample Letter Negotiating Terms of Contract with Wholesalers
Wholesaler name
Department
Address
Postal code
Date
Your name
Department
Company
Address
Postal code
Dear
Re:Contract Terms Wholesaler Company Name/ Your Company Name
Thank you for the draft contract you have provided with the highlighted negotiable and non negotiable terms. I have been looking over the contract carefully and there are a few points that I would like further discussion over.
Pricing
The price that you have mentioned for the quantity to be supplied is approximately 15% less than our company can accept. I am confident we can supply the quantity stated but would have to negotiate a price somewhere within this 15% mark.
Range of Products Held
You have stated that your company already hold products very similar to some of those contained within our range, and that you are only willing take certain products not already stocked. Other wholesalers have agreed that they can promote our entire product range. However, I do realise that your company has a larger national chain of stores. If we can come to an arrangement to promote the entire range for a period of time I am sure we can come to an agreeable pricing option.
Exclusivity Terms
You have stated that you would like complete exclusivity to sell these products within your company. At the moment this cannot be guaranteed as our company has a number of supply contracts already in place with other outlets. I would consider reviewing this exclusivity condition after our products have been with your company for 12 months. Our company is also considering offers from two other wholesalers at the moment and the outcome of these tenders will also affect any exclusivity conditions.
If we can come to a satisfactory agreement on the above points I would look forward to finalising this contract.
I look forward to hearing your thoughts on these points.
Yours sincerely
Name
You might also like...