Using Effective Business English in Written Communications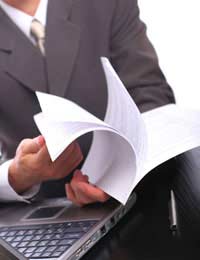 In order to use effective business English in written communications you must understand the purpose and the intended audience. All of these aspects work together to convey an overall message, so with careful planning you can be confident of creating the most effective written communication possible.
Understanding Your Purpose
Understanding the purpose of your written communication is the first step:
Is the communication merely informative or is meant to be persuasive?
Is it a formal communication or an informal communication?
Is the communication on the record or off the record?
Are you writing a first draft and will welcome future comments and suggestions or are you writing a final draft and have no time left for changes after you have finished?
When you know why you are writing something you will then be able to make more informed choices about what you write.
Understanding Your Audience
In addition to understanding the purpose of a written communication you must also understand your audience. Ask yourself:
Who will be reading your communication. Is your audience a specialised group or a general audience?
Does your audience have a history with you or your organisation or will this be the first communication they have had from you?
What is the target age group, gender or socioeconomic status?
Do you even have a target audience or will you be writing for whoever happens to read your literature, for example in a mass mailing or for "junk mail"?
Once you have narrowed down your intended audience you can better plan the most effective content for them.
Planning Your Content
The content of a written communication encompasses not only the information you choose to include but the vocabulary and language, voice, style and tone you choose to employ as well. Vocabulary and language will usually depend upon your intended audience, while whether you use an active or passive voice will depend upon the purpose of your communication.
Active voice is usually used in positive, pro-active communications and passive voice in more serious and reactive communications. The style and tone will depend upon both your purpose and audience, though may be decided already for you if you are using a template or otherwise must conform to writing guidelines for a particular method of communication, such as with a legal brief or scientific report. If you are uncertain of any of these factors, look at previous communications written from your organisation or submitted for a particular purpose and no doubt patterns will emerge and you will soon find a format to follow.
Using effective business English in written communications means taking into account the intended purpose, audience and content. Narrowing down these factors will help you decide what and how best to write your main message so that your communications become the most clear, powerful and ultimately effective you can make them.
You might also like...