Employment Contract Negotiation - Changing Terms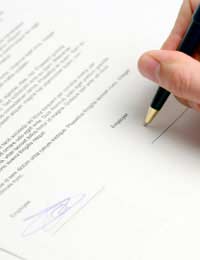 Employment contracts are often open to negotiation, and changing the terms can take place before a job offer or at some point during employment. Negotiating is a skill, and there are certain factors that will provide a strong negotiating position.
Changing an Employment Contract's Terms
Employment contracts are legally binding documents but changing the contract's terms can be achieved if both parties are in agreement. Contract terms and conditions should not be set in stone and should always be negotiable. This negotiation can take place before a job offer is accepted or at some stage during the employment term. The list of changes made to the terms can be negotiated by both parties. A letter with intended changes to the terms is a good way to start negotiations.
Post Job Interview Contract Negotiation
The best time to negotiate the terms of an employment contract will be once a job has been offered. This is the time to strike and is the point where a potential employee will have some bargaining power. There are a number of items in a contract that can be negotiated. This can include salary including bonuses and commission, holiday entitlement, future salary reviews and work duties. Keep negotiations realistic; look at similar jobs in the same area and find out salaries and perks to compare with the offered employment contract terms.
Tone of the Letter to Negotiate Employment Contract Changes
Negotiating to change the terms of an employment contract should involve give and take by both parties. This is a negotiation letter not a list of demands. Employees who have been offered a job may feel they have a great deal of bargaining power at this point. However, a job offer can always be retracted by a potential employer. The negotiation letter should be businesslike and give an amount of leeway on both sides. An employee should state their case and can, if possible, give some alternatives and suggestions to the contract terms.
Do Not Give Ultimatums in a Negotiation Letter
Never place ultimatums into a negotiation letter. This is not a case of the employee stating, "My demands should be met or I will be unable to accept this job offer". This is a dialogue between potential employer and employee, and the outcome should be a favourable situation for both parties. A skilful negotiator should be able to supply a list of desired changes that should be realistic enough to be accepted by the other party.
Bargaining Power in Negotiations
Obtaining the desired changes to an employment contract's terms will also be determined by certain power issues. If an employer really wants to employ the employee then they may be willing to give way on a number of changes. The employee may have an excellent employment track record such as an excellent sales closer. Bringing recognised value to a company will give the employee a strong negotiating position. The employee should keep their value in mind when it comes to writing an employment contract terms negotiation letter.
Sample Employment Contract Negotiation - Changing Terms
Employer name
Company name
Address
Postal Code
Date
Name
Address
Postal code
Dear
Thank you very much for the interview and I am extremely pleased that you have decided to offer me the position of (job title). During the interview you did state that a certain amount of the terms and conditions of the employment contract would be open to a degree of negotiation. I would like to put forth the following points for your consideration.
We did discuss salary at the interview but you did inform me that this point was open to negotiation. Having compared similar positions in the area I would like to start the salary negotiation at 15% to 20% above the base salary mentioned. As you can see from my exemplary record in this field I am confident that I can increase the profit margin in my role by at least this percentage within the first six months.
I would also like to place into the employment contract a condition that my base salary is reviewed after one year. The bonus and commission levels are satisfactory and these would not be required to be changed. As mentioned during the interview the holiday entitlement at my previous company was five weeks per year due to length of service. I would like to negotiate on the four weeks per year that was offered and raise this level to five weeks.
If we can come to an amicable agreement on these points I would have no hesitation in accepting your offer of employment.
I look forward to hearing your thoughts on the matter.
Yours sincerely
Name
You might also like...