Letter Advertising Employee Training Opportunities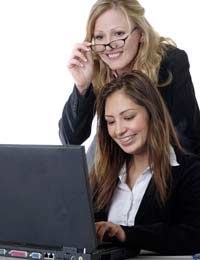 When an organisation goes to the trouble of putting together employee training opportunities it only makes sense that it publicises the opportunities so that there is maximum attendance and benefit to the organisation as a whole. Sending out a letter advertising an employee training opportunity is a great way to make sure that all relevant employees have the information they need to decide if they can attend a specific event or not. Letters advertising an employee training opportunity should offer details of the event, describe who should attend and why, and include instructions on signing up for or attending the event.
Offer Details of the Event
A letter sent specifically to advertise an employee training opportunity should first and foremost include details of the opportunity. What it is, who is leading it, where and when it will take place, if it can be counted toward formal professional development and if the organisation is contributing to the cost are all types of information that should be included in such a letter. In fact, the more information that is given the fewer employees will need to check in to have specific questions answered later. If there is a correct procedure for asking questions, or if there is a source of further information that can be accessed such as the organisation's newsletter or an external website, then this information should be included in the letter as well.
Describe Target Audience
Many organisations will also find it useful to include details of their target for employee training opportunities, and why. This can usually be achieved with a brief paragraph advising employees in certain positions or departments that the opportunity will be useful to them and then enumerating the reasons why. If attendance is required for certain employees then this information should be written clearly and perhaps even in bold font so that it can not be overlooked. If it is seriously suggested that certain employees attend then this suggestion should be included as well. Letters may be individually addressed to specific employees, but if a letter is being sent to all staff them specific names and salutations are not required.
Include Instructions for Attendance
Letters advertising employee training opportunities should always include instructions on how employees can register for or attend the event. This may be as easy as directing them to contact a specific staff member or it may include more detailed instructions on where to find and how to fill out application forms. A deadline should be given so that everyone understands when their registration or application is needed.
Sample of a Letter Advertising an Employee Training Opportunity
Ms. Hilda Roundtree
Job Title
Organisation
Mailing Address

Date
All Employees
Organisation
Mailing Address

[Organisation] is sponsoring an [Event Type] entitled [Event Title] on [Date]. This event will be hosted by [Name] and will commence at [Time]. It will take place in [Location] and will run [Length of Time] and end at approximately [Time]. The event will cost [Amount].
It is highly advised that all [Job Title] attend the [Event Name]. Updates to current legislation and company policy will be discussed, as well as how these changes will affect business here at [Organisation]. This [Event] will/will not count towards formal professional development activities.
For further information on [Event Title] please contact [Staff Member or Department] on [Telephone Number or Email Address]. To book a place on this [Event] please fill out the attached form and return it to [Staff Member or Department] no later than [Date].
Yours sincerely,
_________________
Ms. Hilda Roundtree
Job Title

You might also like...