Letter to Offer Work Experience or Internship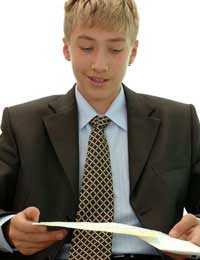 Many organisations now accept young people on work experience or internship programmes, so having a form letter available via which to offer successful candidates a space on such a programme is an efficient way for an organisation to communicate with applicants. However, the form letter should only be a base upon which an more individualised letter is built and should be checked carefully to ensure that all details of a particular opportunity, and a particular candidate, are correct. The tone of the letter and the details of the opportunity should clearly match what is actually on offer to the candidate in a letter to offer work experience or an internship.
Tone of a Letter to Offer Work Experience or Internship
The tone of a letter to offer work experience or an internship opportunity should be enthusiastic. The letter should convey an obvious sense of excitement about the work that the candidate and the organisation can do together. It should be made clear in the letter that even though those engaged in work experience and internships are not yet professionals in a given field it does not mean that their contributions can not be great. Letters might also include information on why work experience and internship programmes were set up at the organisation, and how successful they have been in the past. These letters should leave candidates feeling positive about the organisation, and enthusiastic about working within the programme in return.
Work Experience or Internship Details
A letter extending an offer on a work experience or internship programme must include basic details of the offer that is being made. The start date, the "position" title or team, any wages or honoraria and any other benefits should be made clear in the letter. However, it should also be made clear that the letter is simply an offer of an opportunity and that if the offer is accepted then other paperwork or contracts will need to be completed. If there are any requirements upon which the offer is contingent, such as background check or drugs test, then these requirements should be stated in the letter as well.
Sample Letter to Offer Work Experience or Internship
Mr. Hugh Limestone
Job Title
Organisation
Organisation Mailing Address

Date
Ms. Veronica Baker
Mailing Address

Dear Ms. Baker,
It is with great pleasure that I am writing to offer you a place on the [Organisation] Work Experience Programme. We would be delighted if you would join us as of [Date] to take on the role of [Position].
Here at [Organisation] we value the participants of our Work Experience Programme. Past participants have contributed greatly to our work in research and development, our marketing projects and our sales teams. While you are with us at [Organisation] we hope that you will become a part of our family and take advantage of the many sports and social activities that we offer to everyone.
Though we are unable to pay wages to work experience participants we do offer free lunches in the staff canteen and an honorarium of [Amount] for each month that you are with us. We are also happy to work with any educational institution to ensure that you receive credit for this position if possible.
I hope that you will contact me by [Date] at [Telephone Number or Email Address] so that we can further discuss your work experience with [Organisation]. I look forward to hearing from you soon.
yours sincerely,
__________________
Hugh Limestone
Job Title
Organisation

You might also like...