Enquiring About Paid Training or Educational Opportunities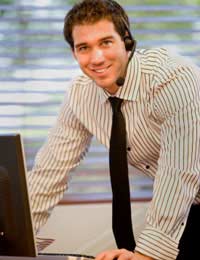 Many companies and organisations offer paid training and educational opportunities for staff members. The details of these schemes are usually specific to the organisation and may depend upon details such as the length of employment of a specific individual, the type of training or educational programme, the level of employment of an individual and if the individual will need to continue in employment for a certain length of time following the organisation's payment. Most organisations which run schemes for paid training or educational opportunities have well publicised policies regarding them, but in the first instance most employees write formal letters either enquiring of further details or for information about applications. Formal formatting is appropriate for letters enquiring about paid training or educational opportunities.
Content of a Letter Enquiring About Paid Training or Educational Opportunities
Letters sent enquiring about details of paid training or education opportunities may ask for details of the scheme itself, details of where to find the organisation's policies about the scheme or details of the employee's eligibility for the scheme. If it is known that an organisation operates such a scheme then referring to these policies or specific scheme details is always a good idea. Similarly, if it has already been determined that an employee meets published standards for the scheme then these details may be included as well. Letters may also be sent enquiring about the application process for such schemes. Again, referencing the criteria which the employee meets, and his or her interest in applying for the scheme, is appropriate for such letters.
Format Of A Letter Enquiring About Paid Training or Educational Opportunities
Letters enquiring about paid training or educational opportunities are formal business letters and should be formatted as such. As interoffice letters they do not need to be printed on organisational letterhead and may be sent via email, but they should include details of the recipient, the date and formal salutations and closings. Printed letters should also include a space for the writer's signature. A copy of such letters may be kept in an employee's file, and the employee might be wise to keep a copy for his or her own files as well.
Sample Of A Letter Enquiring About Paid Training or Educational Opportunities
Mr. Frank Peyton
Job Title
Organisation

Date
Mr. John Roseland
Job Title
Organisation

Dear John,
It has come to my attention that, due to my recent promotion, I may now be eligible for [Organisations]'s [Scheme Name] which would cover the cost of a postgraduate degree so that I might specialise in [Subject].
I found details of the [Scheme Name] on the company intranet as well as in the employee handbook. Given my length of employment here at [Organisation], as well as my position as [Job Title], I believe that I fit the criteria to take advantage of this opportunity.
I would appreciate it if you would now confirm if I am eligible to apply for [Scheme Name], and if so provide further details of the application process. I look forward to receiving this information soon.
Thank you,
_____________
Frank Peyton
Job Title

You might also like...