Professional Letter of Condolence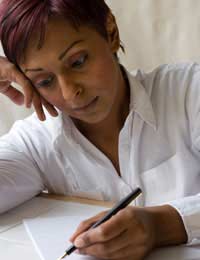 There is nothing more serious than having to send a letter of condolence for a professional contact. Whether the letter recipient is a business associate or is the loved one of a business associate, a professional letter of condolence will go a long way towards making him or her feel that the deceased was held in high esteem by your organisation.
A professional letter of condolence is first and foremost an acknowledgement of and a demonstration of regret for someone's loss. This information should be clearly communicated in the opening of the letter.
Include further details of the deceased's association with your organisation, as well as one or two specific memories or milestones. This is a nice way of letting the deceased's loved ones know that (s)he was well regarded and will be missed.
If the deceased was not directly associated with the organisation, for example was the parent or sibling of an employee, then such details may be omitted or remain brief and a further message of support for the letter recipient substituted instead. If a donation or any other action was or will be made in the deceased's name then include this information.
Format of a Professional Letter of Condolence
These letters should be printed or handwritten on organisational letterhead, include a signature and be delivered via post. If this letter is being delivered with something else, for example a flower arrangement or fruit basket, then it may be slightly less formal and written more as a note (no mailing addresses). The format of the letter should be dictated ultimately by the relationship of the letter writer to to the deceased or the relative of the deceased who will receive the letter.
Sample of a Professional Letter of Condolence
Mr. Christian Chu
Managing Director
Learning Solutions LLCMailing Address
11 August, 2010
Ms. Veronica Wickham
Mailing Address
Dear Veronica,
It was with great regret that I heard of the passing of your father, Walter Wickham. I am so sorry for your loss.
Walter was a staunch supporter of Learning Solutions from its first day. In fact, it was while I was teaching with Walter that he suggested I make my extracurricular tutoring more formal and to think in terms of a private company to provide revisions to even more students. This was a highly controversial opinion in the staff room, but it was Walter's support that pushed me to think big and turn my little plan into a reality.
Not only did Walter provide personal support to, his contribution to the business was immense. He wrote all of Learning Solutions' earliest company literature, and it was his research that helped me write a business plan to get Learning Solutions off the ground in the first place. When I say that I don't know if Learning Solutions would be here today without Walter I truly mean it.
In memory of Walter's generous support and encouragement, I would like to honour his memory by providing three full scholarships each term to students who would like to partake of a Learning Solutions' revision course but would be unable to afford it on their own. These will be the Walter Wickham Scholarships and will begin in January, 2011. It is my fondest hope that you will become involved in selecting scholarship recipients with me so that each term we can honour Walter's memory together.
Please contact me whenever you like at [email address] or [phone number]. I look forward to future collaborations.
Your sincerely,

_________________
Christian Chu
You might also like...