Letter of Reference for Past Employee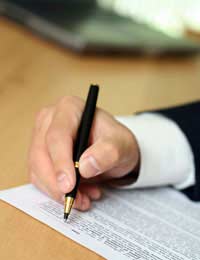 Many employers are asked to provide letters of reference for past employees, some of whom may not have worked for the employer in many years. Meeting with, or at least speaking with, a past employee to find out what (s)he has done in the years following employment at a particular organisation will be a great help in deciding what to write in a letter of reference. Details of the employee's time at the organisation, what (s)he has done since this employment and an ultimate recommendation regarding his or her work are all appropriate details for a letter of reference for a past employee. As a business letter, this type of letter should be formatted formally.
Content of a Letter of Reference for a Past Employee
A letter of reference for a past employee should include details of the time this person spent as your employee, including dates, job titles and key responsibilities (s)he carried out. If you feel you can not speak to more than this, then these details are all you should include. If you have kept up with this employee and can provide details of why (s)he left your employment, what (s)he did next and how this career path would make him or her suitable for future positions then this information may also be included. If (s)he left your full time employment but you still work with him or her on a consulting or freelance basis, or if you would hire him or her back should (s)he be willing, then this information would be appropriate to include as well.
Format of a Letter of Reference for a Past Employee
A letter of reference for a past employee is a business letter and as such should be formatted formally. The name, job title and business mailing address of both the writer and recipient should be included. The date of writing should be noted, and formal salutations ("Dear") and closings ("Sincerely") should be employed. If the name of the recipient is unknown then all personal information for a recipient should be omitted and a salutation of "To Whom It May Concern" used instead. This type of letter should be printed on company letterhead and delivered via post, or sent to the past employee for future distribution.
Sample of a Letter of Reference for a Past Employee
Mr. Robert Gibbs
Head of Reference Services
Brookhaven Library
Mailing Address
5 July, 2010
To Whom It May Concern,
Julia Mills volunteered as a Library Assistant at Brookhaven Library from September, 2004 through July, 2005. Following completion of her Masters degree in Library and Information Studies at [University Name], and based on her outstanding work during this time, she was then hired as a Reference Librarian in August, 2005.
As a Reference Librarian Julia was responsible for answering patron queries in person, on the phone and via email, working with the inter-library loan system and updating the reference section of the Brookhaven Library website. Julia went above and beyond these responsibilities, however, and regularly contributed to the Library's social events schedule, liaised with local schools to provide better services to students and became involved with Library fundraising in order to better equip the Reference section and serve our users.
I would recommend Julia as a Librarian and researcher to any potential employer. She is industrious, creative, dedicated and always brought a positive outlook to any task. When Julia left us to assume a Head of Reference Services position in another library system, I lost a wonderful employee here at Brookhaven Library but gained an invaluable colleague elsewhere in the library world.
Should you require any further details of Julia's employment at Brookhaven Library, please do not hesitate to contact me at [email address] or on [phone number].
Sincerely,

________________
Robert Gibbs
You might also like...