Letter Negotiating Debt Terms With Creditors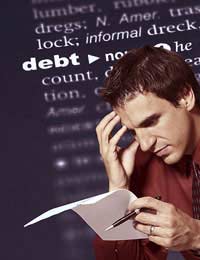 A letter negotiating debt terms with creditors should be kept realistic, this means proposing terms that can be fulfilled without failure in the future. Unrealistic proposals will be met with scepticism by creditors, especially if the original terms have not been honoured.
Negotiate With Creditors at the Earliest Stage
Negotiation letters to creditors should be written and sent as early as possible. Creditors should be informed as soon as any financial problems occur and before there are any lapses in the credit payments. Creditors should recognise that by making early contact the debtor is taking the matter seriously. Early contact can avoid late charges, mounting interest fees and default notices on credit reports.
Intent of the Letter to Negotiate Debt Terms
The main intention of the letter is to negotiate new terms on the credit agreement in the debtor's favour. This could be suspended interest payments, paying interest only or reduced payments over a longer credit period. Basically, the creditor will want to know that they are going to receive some form of payment on the debt. The new terms will be the negotiation point and the outcome should be based on how much the debtor can comfortably afford to pay.
Content of the Debt Negotiation Letter
There are a few important issues to include in the debt letter that will help the creditor obtain an overview of the situation. The content of the letter should include the reason for the financial problem and any timescale as to how long the problem will last. Proposals for reduced payments or alternatives to reduced payments should also be included. It can also be an idea to place in the letter some solutions that are being sought to the problem such as looking for employment if a job has been lost.
Negotiating an Offer of Restructured Debt Terms
It may be the case that this letter is a reply to an offer to restructure debt terms, a restructure that is not suitable. If this is the case then the reply should state exactly how much can realistically be afforded by the debtor. There is no point agreeing to restructured debt terms if the debtor is once again going to miss payments after a few months. Place a statement saying that the proposed terms are not suitable and are unrealistic before making a counter proposal.
Notifying Creditors of Financial Advice
Another way to make creditors aware that the situation is being taken seriously is to notify them that an assessment of the situation has been made. This could take the form of advice from a credit counselling agency or advice centre such as the Citizens Advice Bureau. Mentioning this in the letter when negotiating debt terms with creditors will make them aware that professional advice has been taken on the matter. It should also make creditors aware that the debtor knows their consumer rights on the matter.
Sample Letter Negotiating Debt Terms with Creditors
Creditor name
Company name
Address
Postcode
Your name
Address
Postcode
Date
Dear
Re Customer account number:
Account balance:
Due to an unfortunate decrease in my income I will no longer be able to maintain the original monthly repayments of (amount). This present financial difficulty is due to a reduction in my hours of employment. It is hoped that my hours of employment will return to normal within four months.
I have taken advice from the Citizen's Advice Bureau who have advised me to write to all my creditors, notify them of the difficulty and request a restructure of my credit terms. I feel that at this present time I would be able to afford the amount of (amount) per month, which is a reduction of 50% of the monthly payment. Failing this I would like to request that payments and interest be suspended for four months until this situation can be rectified.
I am presently looking for part-time employment as a way to supplement my income. Once my financial situation changes I will write again to inform you. I hope you find this proposal an agreeable and realistic option.
I have every intention of honouring this debt and look forward to hearing your thoughts on the matter.
Yours sincerely
Name
You might also like...